Apraxia: Motor-planning disorder that can result in errors in speech sound production, minimal talking, or a high-level of unintelligibility.
Articulation and Phonological Disorders: Difficulty producing speech sounds.
Autism Spectrum Disorder: A developmental disability affecting communication, social skills, and behavior.
Expressive/Receptive Language: An overall challenge in using, producing, and understanding language
Fluency: (AKA stuttering) A disruption of speech with repetition, pauses, or prolongations of sounds and syllables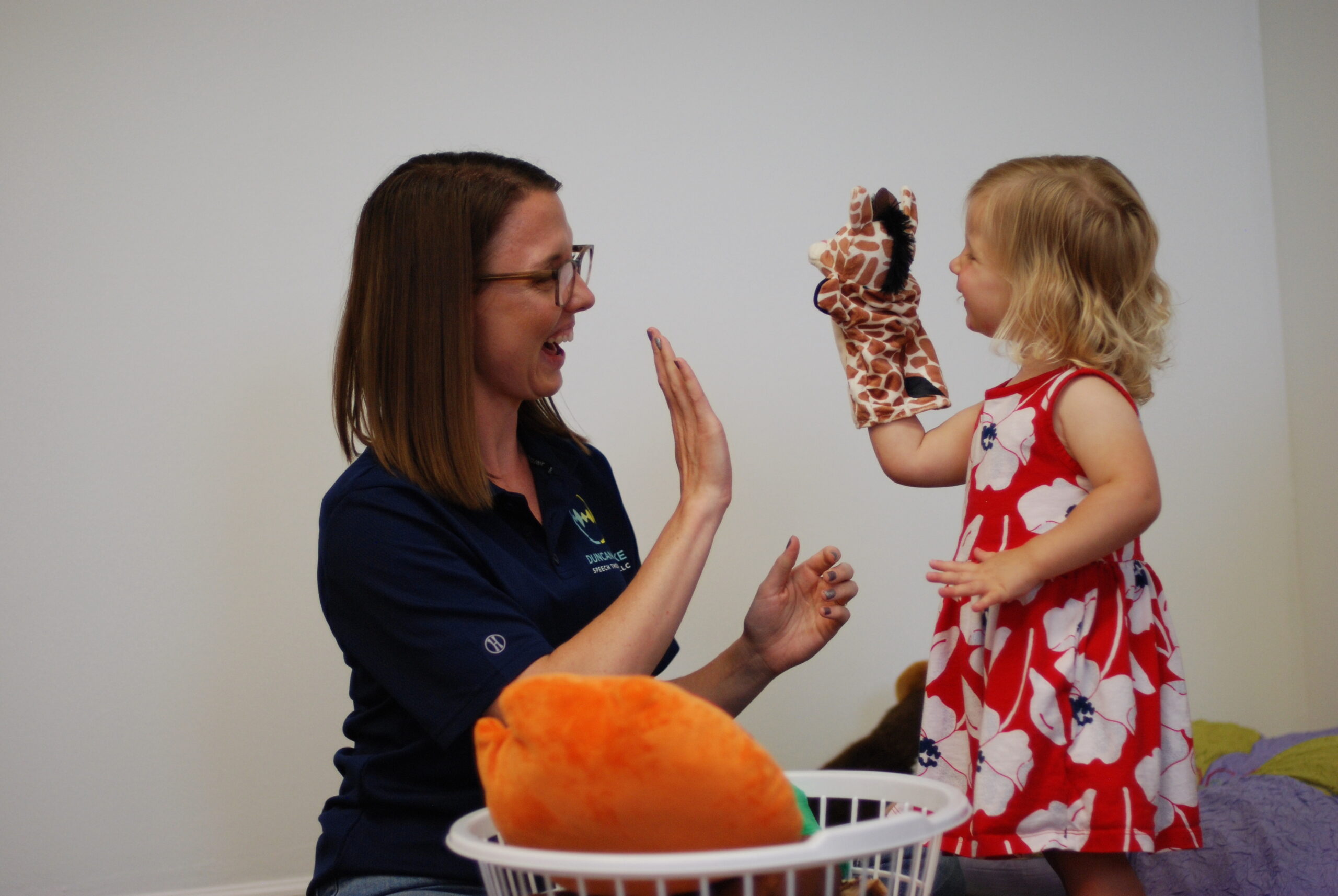 Adult Articulation: Speech sound intervention for adults with lasting articulation disorders.
Alternative and Augmentative Communication (AAC):Forms of communication that are not speech (i.e. picture communication, iPads/apps, core boards)
Gender Affirming Voice and Communication Modification: Voice and communication training services for transgender and non-binary individuals.
Orofacial Myofunctional Therapy: Treatment of disorders of the muscles and structures of the face and mouth that contribute difficulties with speech and swallowing.
Is your district having difficulty fulfilling speech-language pathology positions? If you can't find qualified applicants or have unfilled positions, please consider Duncan Lake Speech Therapy, LLC! We offer school-based contract services to districts within the state of Michigan.
Our team is able to provide in-person school contract services within Kent County, and we can provide services virtually to any district within the state of Michigan.
We can provide services long-term or for short-term assignments (i.e. maternity leaves or medical leaves of absences). The best part? You work with a local, small business rather than a large-scale, corporate contracting company!
"As a traditional educator, I entered into virtual speech therapy with some reservations. I was pleasantly surprised not only with the services that were provided to our students but also by the professionalism displayed by Duncan Lake. They established firm structures to ensure that the virtual experience was positive and successful. The therapist went above and beyond to try and make a connection with students in order to build solid relationships."
- Shelly Millis, Superintendent, Montabella Community Schools
"Duncan Lake Speech Therapy has excellent customer service. Our speech therapist is reliable, highly skilled, and wonderful to work with!"
- Julie Berner, Resource Room Teacher, Byron Center Charter School
Before Coming to See Us . . .
We have created a short video preparing your child for what to expect when coming in for their first session. If you'd like, please watch!
COST AND INSURANCE INFORMATION
Duncan Lake Speech Therapy, LLC is currently in-network with  ASR, BCBS of Michigan, BCN, Priority Health, Cigna and Optum/United Healthcare. We are also a non-network certified provider for Tricare. Though we accept insurance, this does not mean that your policy covers speech-language services or covers specific diagnoses. It is your responsibility to know your insurance coverage.
Duncan Lake Speech Therapy, LLC does accept payment through HSA/FSA accounts, and can provide the needed documentation should the HSA/FSA company require it for coverage. Additionally, Duncan Lake Speech Therapy, LLC can provide a superbill should a client or their family decide to seek reimbursement of services through out-of-network benefits. The client or their family would need to check with their insurance to ensure this is an option.
Effective January 1, 2022, you have the right to receive a "Good Faith Estimate" explaining how much your medical care will cost.

In accordance with the "No Surprises Act," health care providers need to give patients who do not have insurance or who are not using insurance an estimate of the bill for medical items and services. The estimate is based upon what care is reasonably expected to be, at the time in which the estimate is issued. If there are significant changes to the plan of care due to changing circumstances, a new estimate may be issued.

This applies to folks who are paying privately, unable to use their insurance benefit, or are uninsured. This does not apply to those who have and utilize their insurance benefits.

Questions? Visit the Centers for Medicare and Medicaid Services' FAQ page for more information!